Travis Rice: Wyoming Snowboards
(scroll for project info)
January, 2015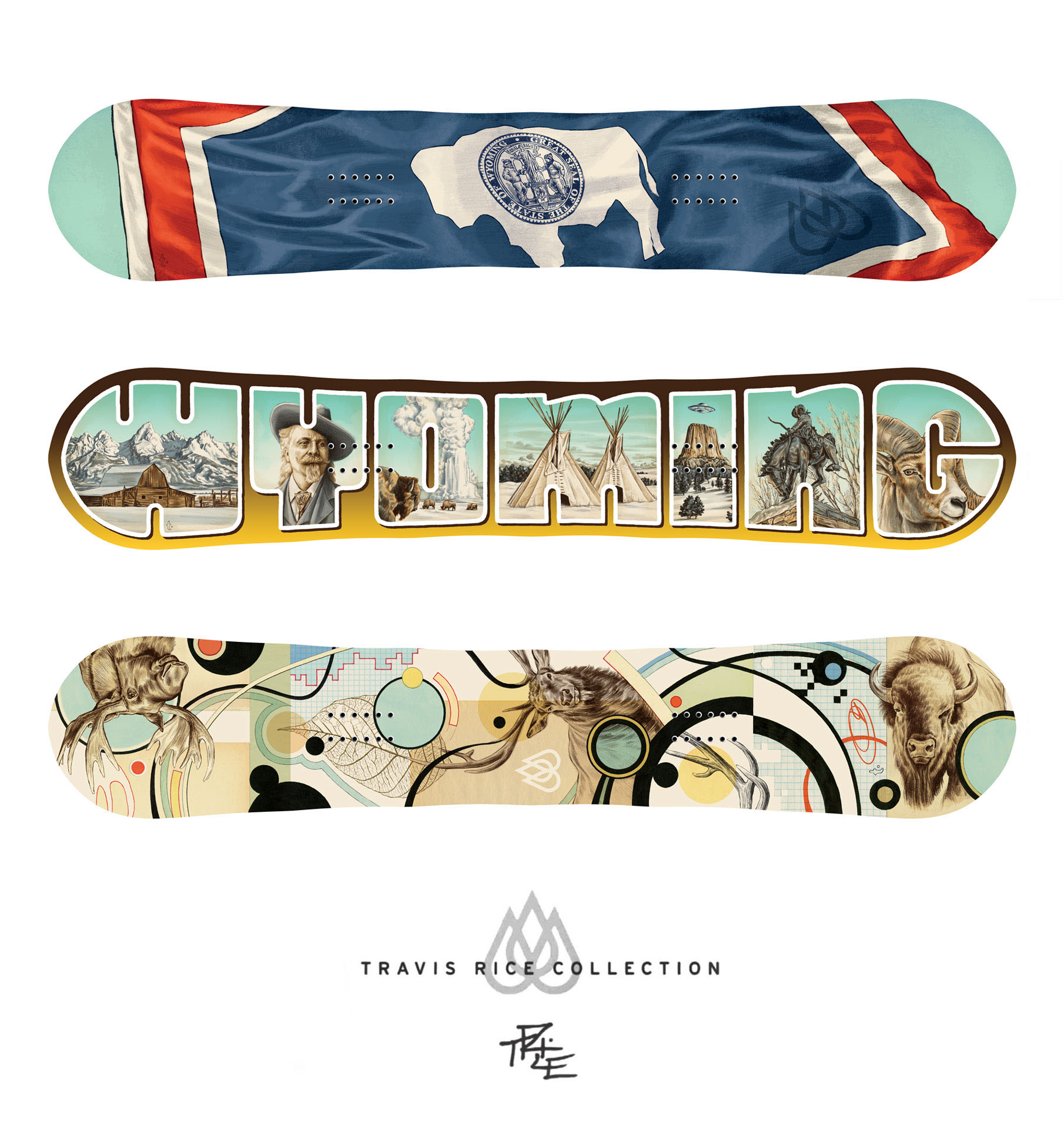 World-renowned professional snowboarder and Jackson Hole native, Travis Rice, approached me about creating some snowboards with him for Wyoming Tourism. This happened to go down at the opening of his new Asymbol Gallery in downtown Jackson, so I was already feeling pretty creatively inspired. As it turned out, Lonnie Anderson—Creative Director at Barnhart USA and another Wyoming native—had first pitched the idea to Wyoming Tourism and then approached Travis, who had already been looking for a good project to collaborate with me on. 
The idea was fairly simple: Wyoming would pay for custom, Wyoming-themed snowboards to be illustrated by a Wyoming artist, and then promoted and ridden by Wyoming's most famous athlete... Travis Rice. They only produced 60 boards total (20 of each design), so they are a very limited run. Some will be given away as prizes for the Roam With Rice sweepstakes, while others will be given away as PR items to VIP's or potentially sold at auction. But the coolest thing to me, aside from riding one of the three boards they sent me, will be seeing Travis ride them in his next film!

See Travis reflect a bit on how awesome Wyoming is:

The creative side started with Travis and me discussing various general ideas right before he took off on an extended sailing trip around the Pacific for a few months. From there it was 2 rounds of sketches before we settled on these 3 ideas. It was interesting trying to reach Travis during his sailing trip (i.e. nearly impossible!), but we somehow made it work. The Wyoming flag board was one of Travis' initial ideas and the other 2 were mine. We thought these final 3 covered a good range of aspects of Wyoming (scenery, wildlife, culture). Plus they were all different enough from each other in content, while still being tied together by the drawing style and color scheme.